Visualize Your Room
Let us help you visualize your room with our 3D modeling software.
Cabinet & Countertop Inspirations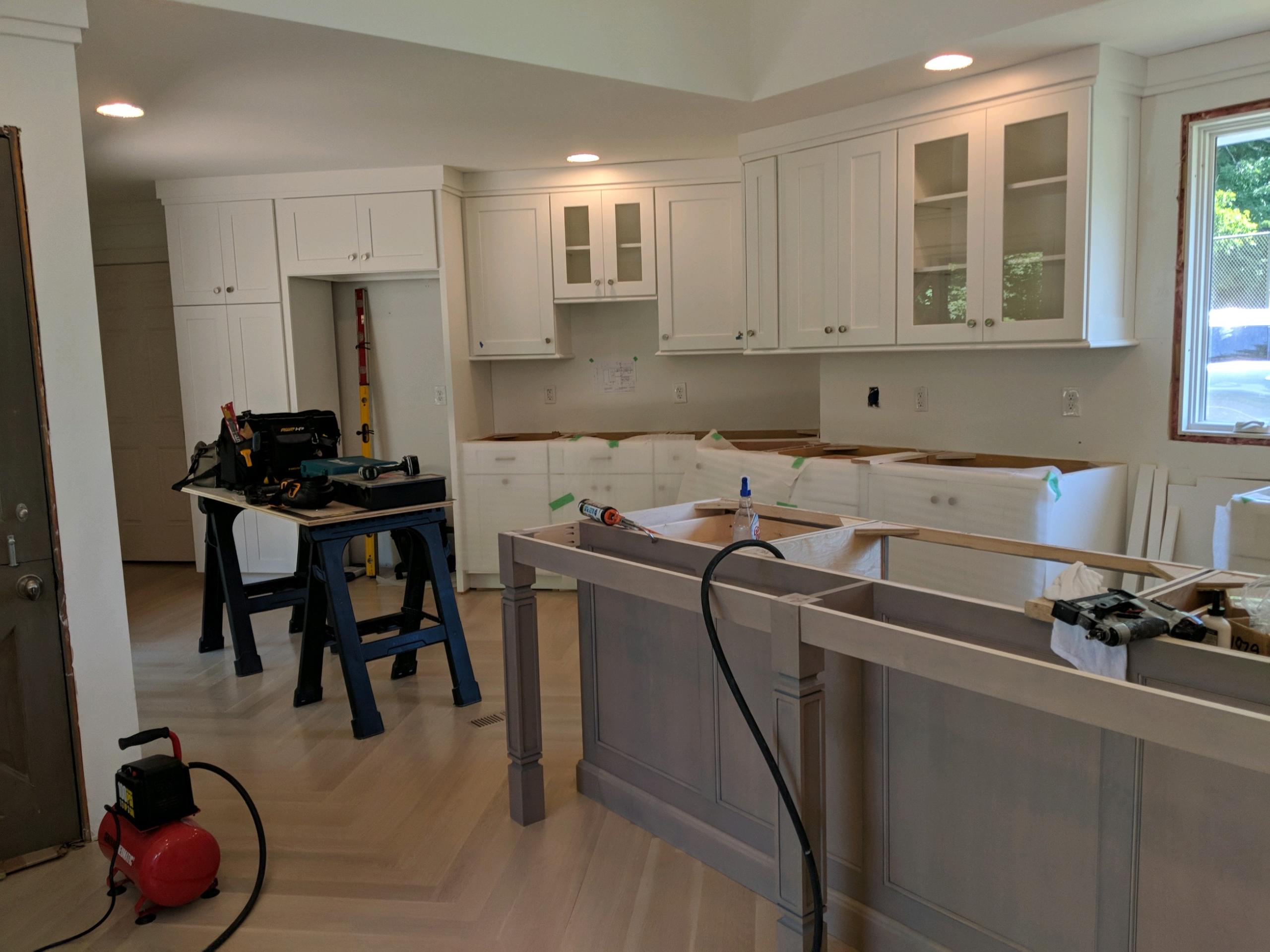 A kitchen remodeling project represents a significant of your time and money. At various times in the planning process our clients ask a version of the following question … "What should I expect during the project?" As most people only undertake one remodeling project in their life, it is filled with uncertainty and unfamiliarity.
To help minimize this uncertainty, it is important to understand what to expect, how long it will take, how it will impact living in your house, and the best ways to maintain a clean, safe home. We will address various remodeling expectations in this and future blog posts. While we cannot answer every potential question that could arise, we will work to provide information to prepare you for what lies ahead.
As you begin planning your kitchen remodel, remember the following:
Keep the end in mind – when the project is complete, you will have a new, beautiful kitchen designed for your family's needs.

The project will not be complete overnight – remodeling a kitchen is a significant project and will take time.

Your patience will be tested – over the course of the project, there will be times when there appears to be little progress, you will tire of having people in the house, surprises will happen, etc. Stay focused on the first bullet point … a beautiful kitchen.

Communicate – if anything is unclear or you have questions during the remodeling process, ask your designer/contractor. You have hired them for their expertise and they will gladly respond to your questions and/or concerns.
Watch our blog for more details on what to expect during a kitchen remodel. We will touch on temporary kitchens, minimizing the mess, packing up your kitchen, and more. If you don't want to wait, stop in our showroom or call us. One of our designers would be happy to talk with you.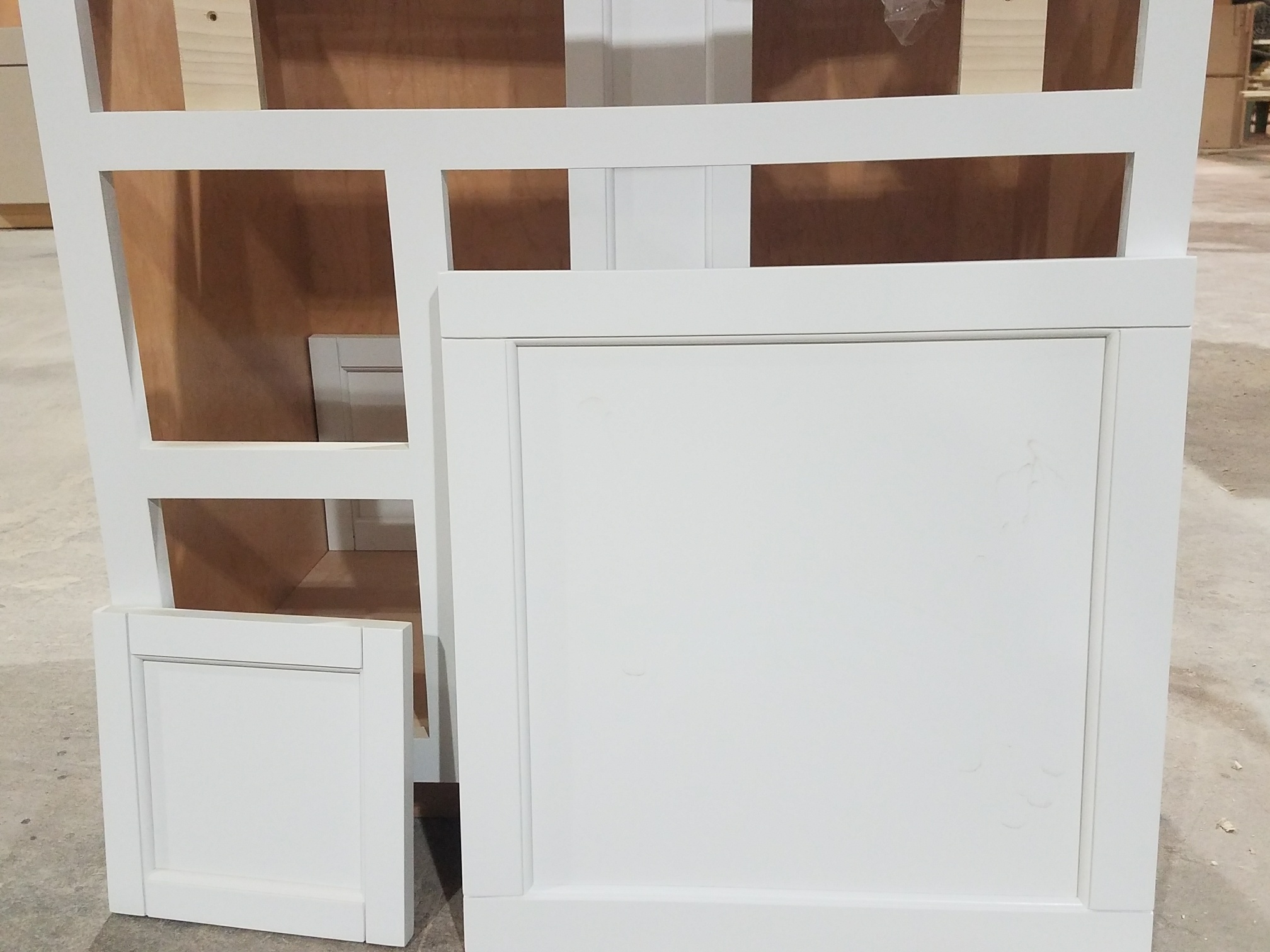 As discussed in a previous blog, remodeling a kitchen can be expensive. One alternative is refacing cabinets instead of replacing them. Refacing cabinets can be a viable option, however, there are situations in which refacing cabinets does not makes sense. Let's look at what refacing is and the advantages/disadvantages of this option.
With cabinet refacing, the existing cabinet doors and drawer fronts are removed and replaced with new doors/drawer fronts. The exposed face frames and cabinet ends are covered with material to match the new doors/drawer fronts. New molding is installed to cover any raw edges or exposed areas. Typically, the new finish is painted or stained wood.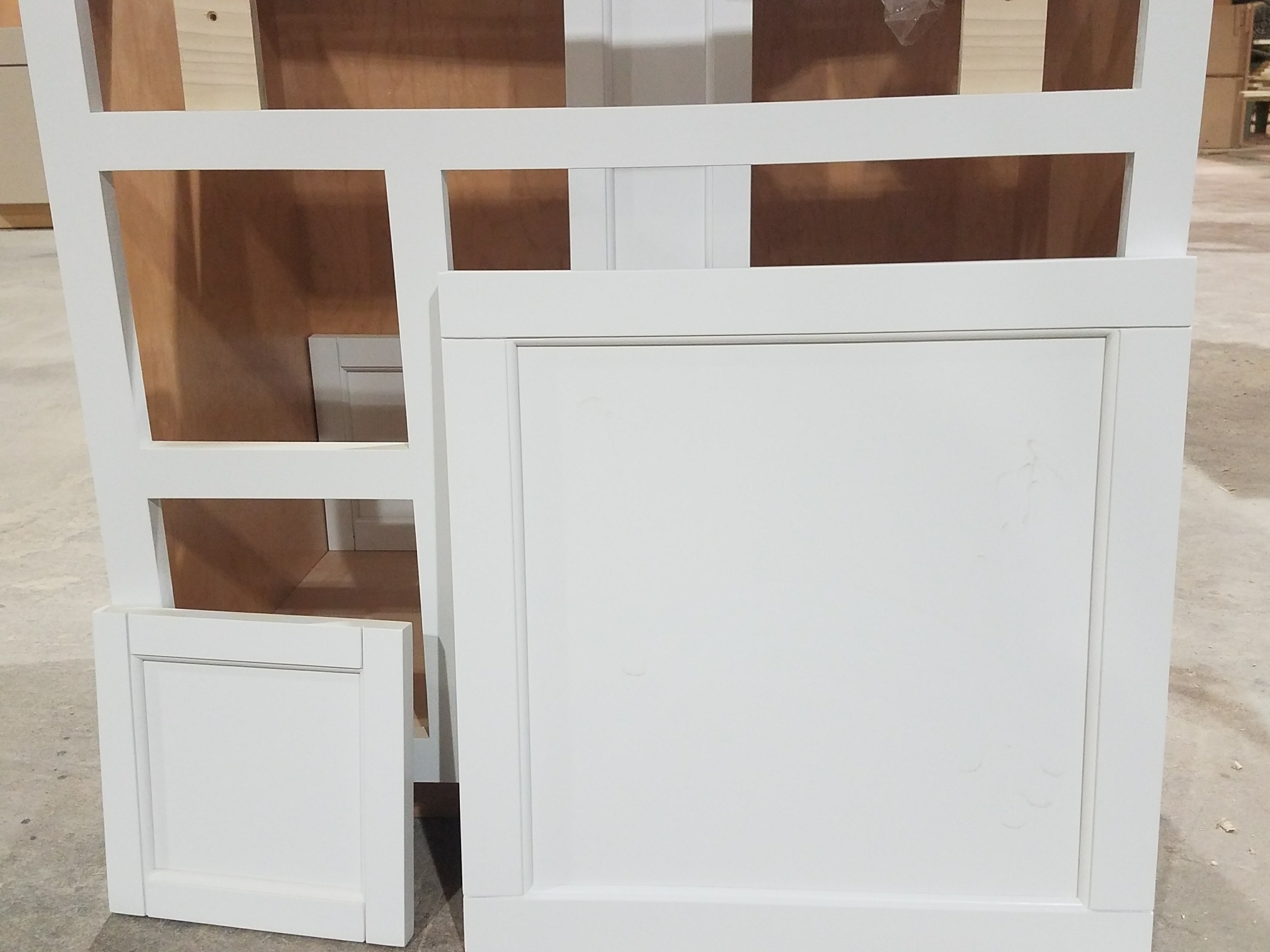 The key advantages of cabinet refacing are:
Cost – Typically, refacing cabinets will cost less than complete replacement. That said, the difference versus replacing cabinets may not be significant as it involves replacing the most expensive part of the cabinet … the door and drawer front.

Time – Refacing cabinets will take less time than removing and replacing cabinets. Most refacing projects take around one week, while replacing cabinets will typically takes four weeks.

Cleaner – There will typically be less mess/dust with refacing.

Convenience – During the cabinet refacing, you will still be able to use your kitchen in the evening.
Disadvantages of refacing projects include:
Poor kitchen layout – Many remodeling projects are undertaken to improve the functionality or layout of your kitchen. Refacing cabinets will not solve this problem.

Tired cabinets – In many cases, the existing cabinets are tired … sagging shelves, falling apart. Refacing will not fix worn out cabinets.

Structural issues – There may be structural issues in the home, including floors that have settled, causing problems with the cabinets. Refacing cabinets will not correct these structural issues.

Cabinet accessories – Today, there are a growing number of wonderful cabinet accessories to improve the storage, functionality, and design of kitchens and bathrooms. In a refacing project, you will likely be limited in the ability to incorporate these accessories into the existing layout/design.
Refacing cabinets is a good option for some kitchens, however, if any of the above issues exist, examine all the options before making your final decision.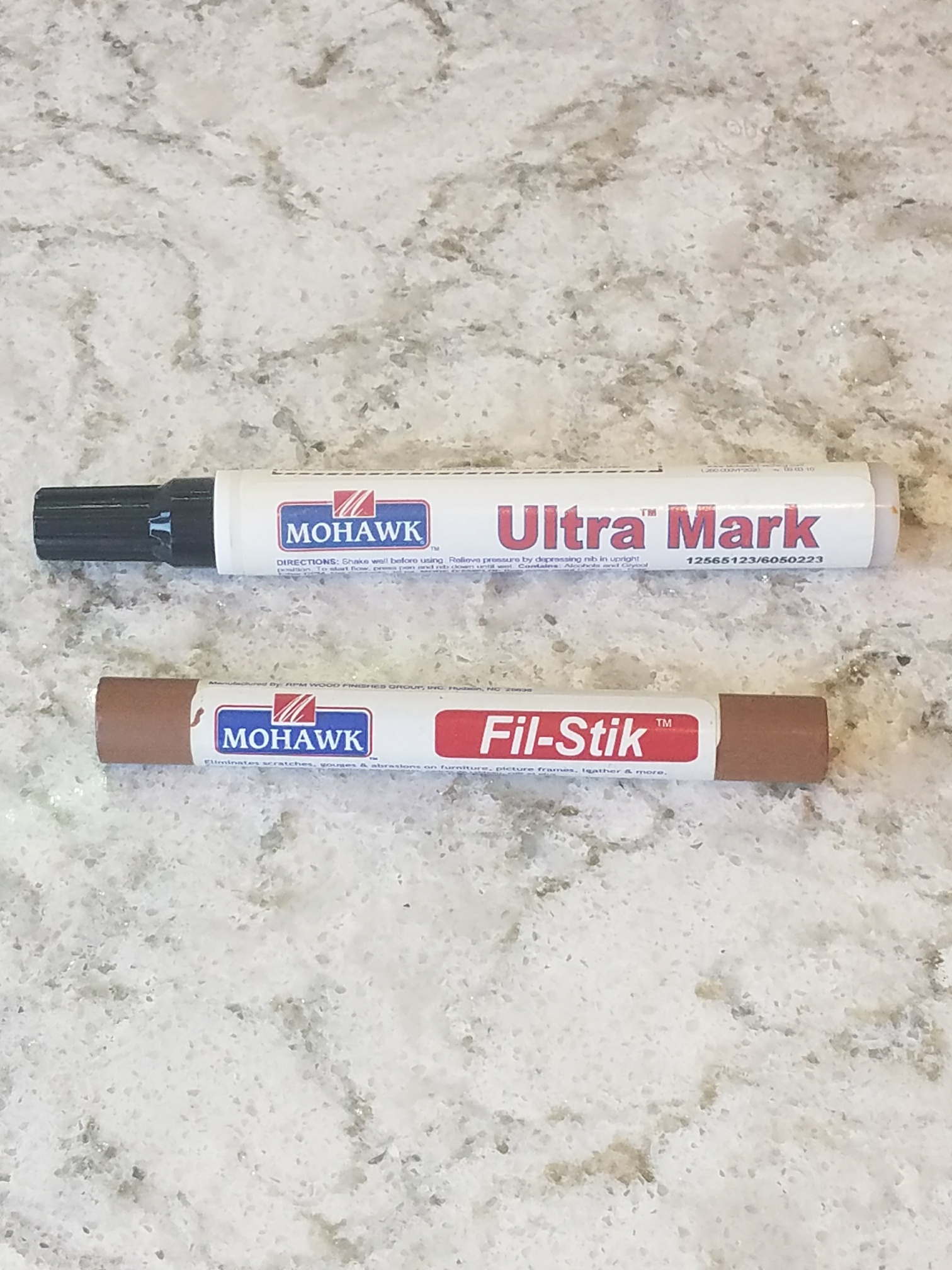 The cabinets in your kitchen and bathroom have a difficult life. Constantly being opened & closed, residing in an environment with water & moisture, and being run into by people, vacuums, pets, and any number of household items. Given this wear and tear, your cabinets are very likely to be inadvertently scratched. How do you touch-up cabinets to make those little mishaps disappear?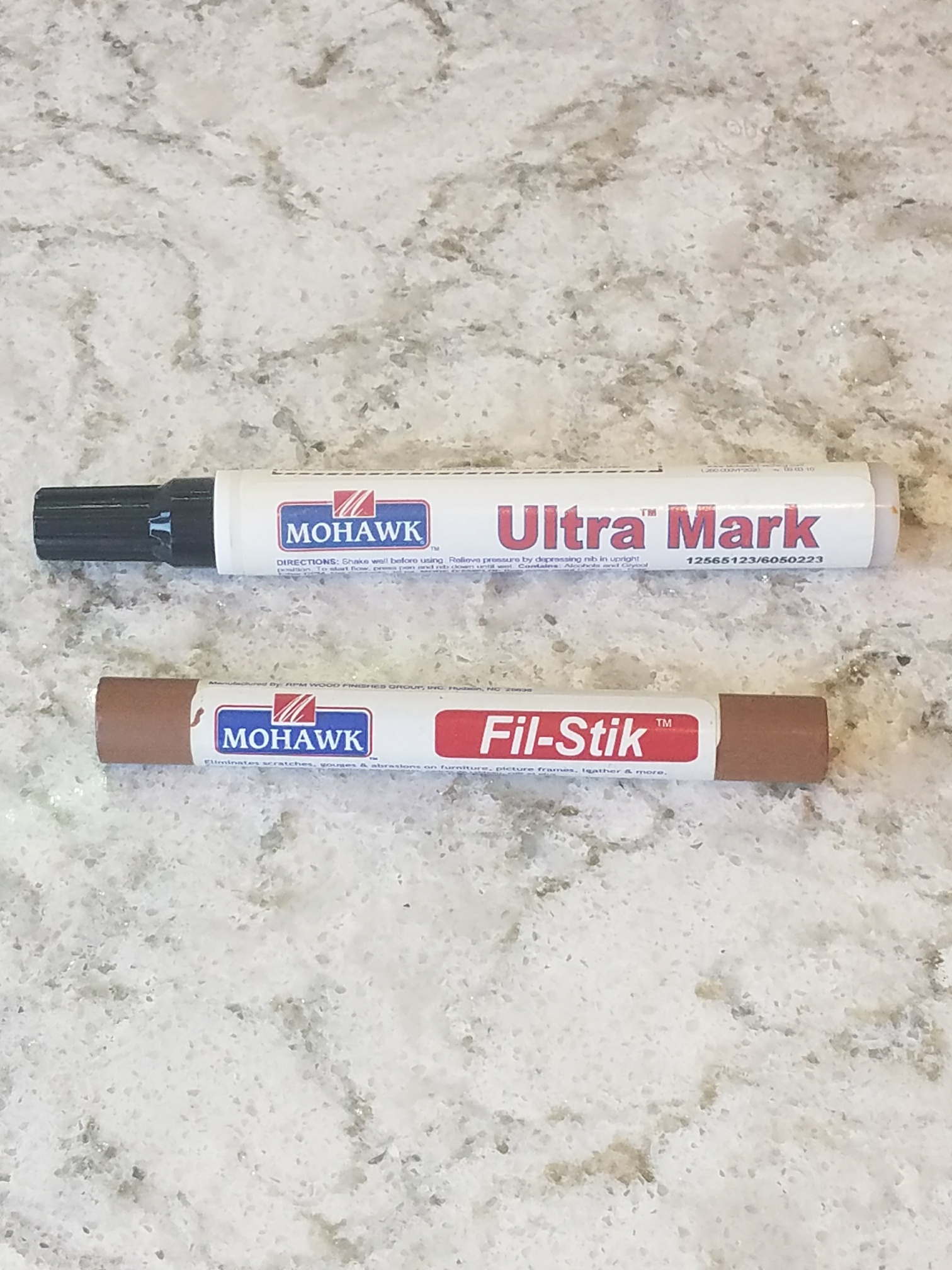 Most new cabinets come with a Touch-up Kit. These typically include a fill stick and a touch-up marker. If you do not have a kit, or it has wandered off over the years, you can purchase one from your cabinet dealer. Hardware stores also carry these touch-up markers and fill sticks, however, the color match will not be as close as the one from the cabinet manufacturer.
Fill Stick
Think of the fill stick as a big crayon. It is used to fill in bigger scratches or indentations in the cabinetry. This includes nail holes, gouges, cuts or deep scratches. Simply apply pressure to the fill stick to completely fill the scratch. There will be excess around the damaged area. Gently use an old credit card to smooth and match the surface. Finally, wipe off the area with a clean, dry, lint-free cloth.
Touch-up Marker
The touch-up marker is used on spots where the finish is damaged and raw wood is seen. This includes scratches, joints where two pieces of wood/molding meet, areas with excessive wear, or the edge of a piece of cabinetry. Before starting, most markers need to be shaken to eliminate settling of the colors. Once shaken, take and run the marker over the damaged area. It will likely take more than one coat to cover the damage. Wipe any excess off using a clean, dry, lint-free cloth. Recap the pen to prevent it from drying out.
Testimonials
"Sonja and I want to thank you for the great experience that you and your company provided to us throughout the design, manufacture, and installation of our library cabinetry you made for our condo. Our friends and family rave about its quality and appearance. You are all craftsmen and it was a real pleasure watching the project come together during the whole process."
Al & Sonja

"Thanks again for successfully completing our project today. Special kudos to Mike and the other craftsmen at the shop for a job well done. We could not be more pleased with the results. Mike's attention to small, finer details was very much appreciated. He was patient, pleasant and understanding. It's all about the "fit & finish" with us and Spiceland Wood Products did not disappoint. We WILL be doing more business together soon – we look forward to it. Given the opportunity, we will highly recommend SWP to everyone. It was a true pleasure working together."
Wayne & Tonia
CABINETS, COUNTERTOPS & CUSTOM WOOD PRODUCTS