Visualize Your Room
Let us help you visualize your room with our 3D modeling software.
Cabinet & Countertop Inspirations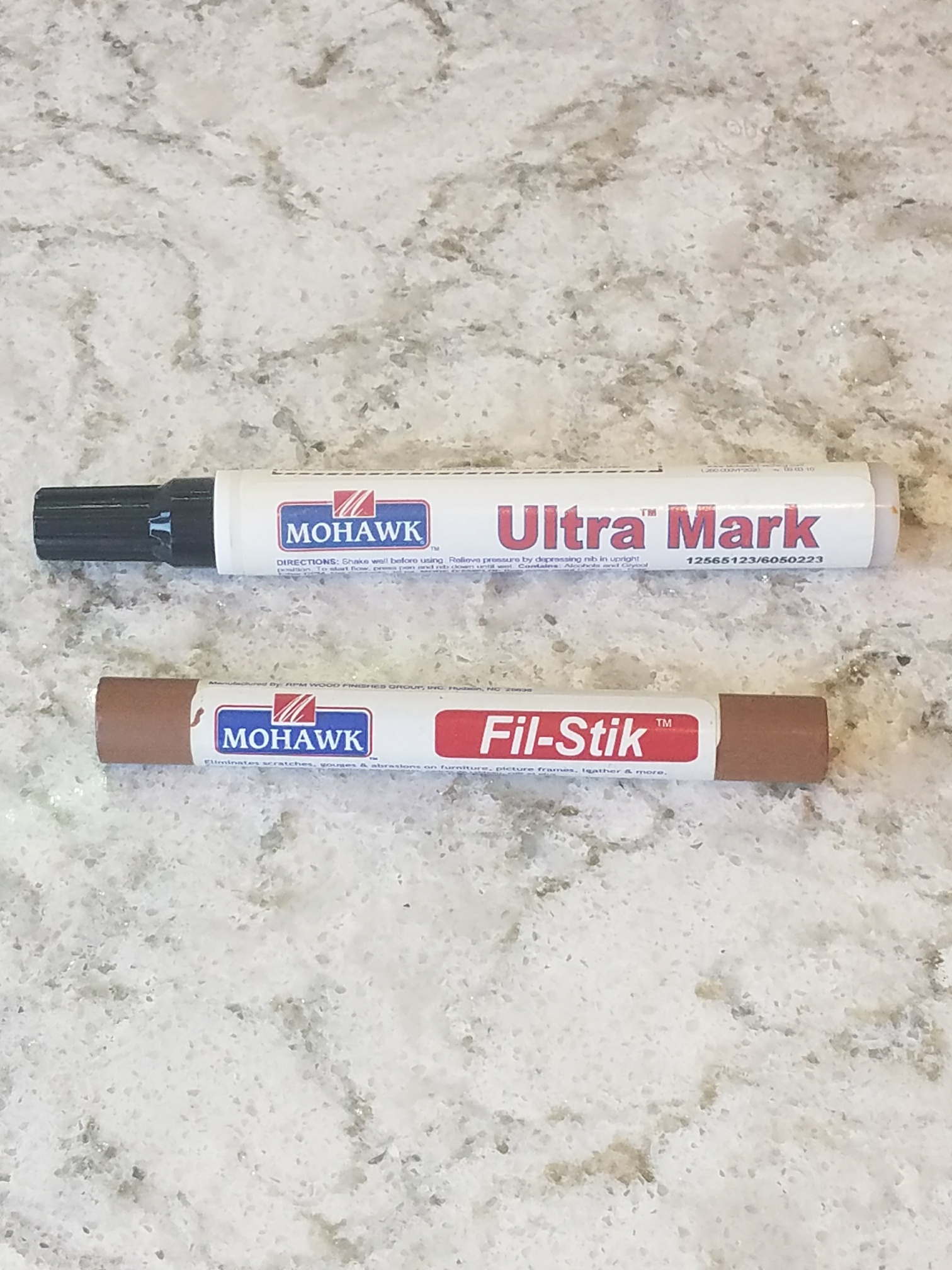 The cabinets in your kitchen and bathroom have a difficult life. Constantly being opened & closed, residing in an environment with water & moisture, and being run into by people, vacuums, pets, and any number of household items. Given this wear and tear, your cabinets are very likely to be inadvertently scratched. How do you touch-up cabinets to make those little mishaps disappear?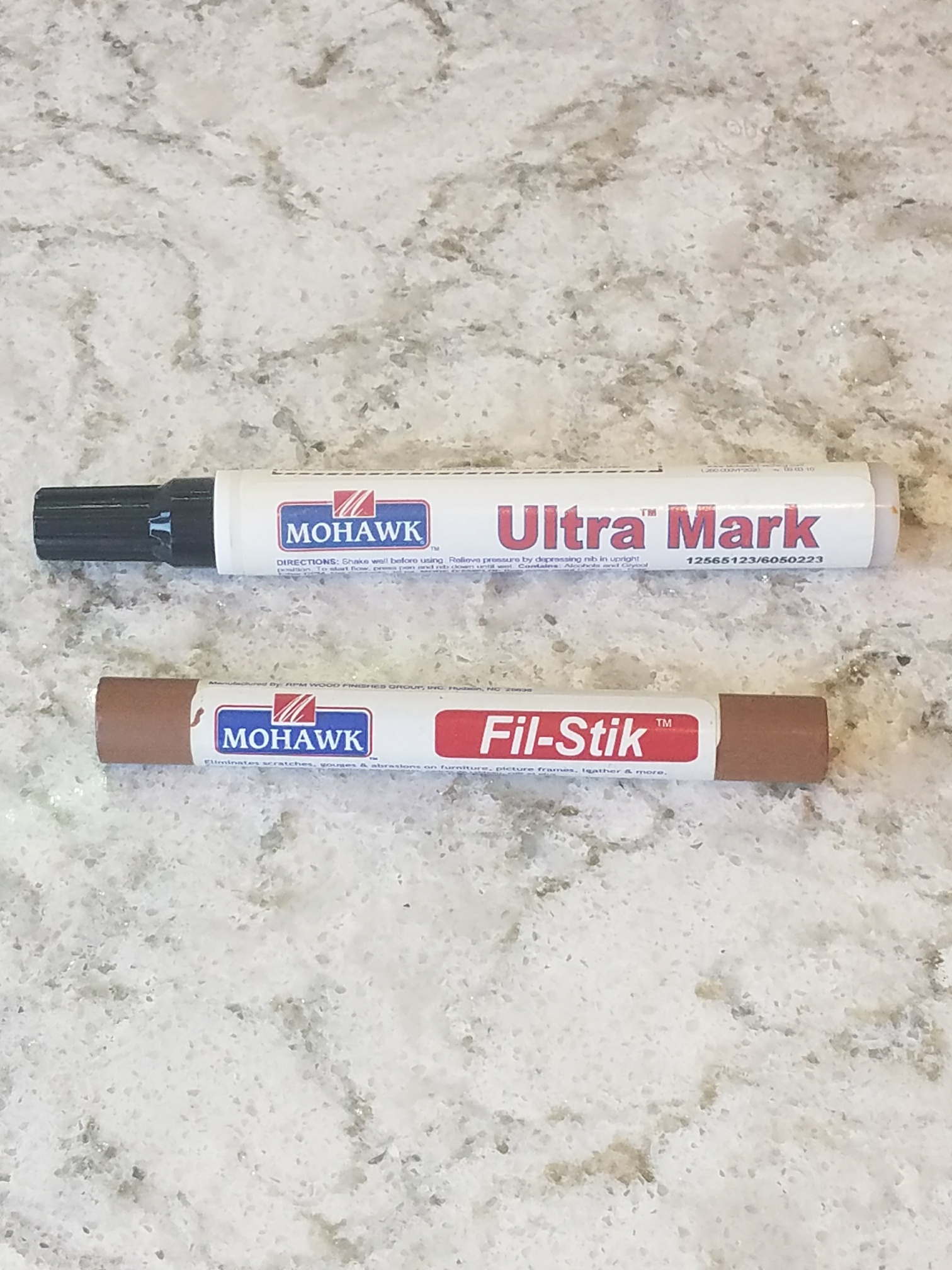 Most new cabinets come with a Touch-up Kit. These typically include a fill stick and a touch-up marker. If you do not have a kit, or it has wandered off over the years, you can purchase one from your cabinet dealer. Hardware stores also carry these touch-up markers and fill sticks, however, the color match will not be as close as the one from the cabinet manufacturer.
Fill Stick
Think of the fill stick as a big crayon. It is used to fill in bigger scratches or indentations in the cabinetry. This includes nail holes, gouges, cuts or deep scratches. Simply apply pressure to the fill stick to completely fill the scratch. There will be excess around the damaged area. Gently use an old credit card to smooth and match the surface. Finally, wipe off the area with a clean, dry, lint-free cloth.
Touch-up Marker
The touch-up marker is used on spots where the finish is damaged and raw wood is seen. This includes scratches, joints where two pieces of wood/molding meet, areas with excessive wear, or the edge of a piece of cabinetry. Before starting, most markers need to be shaken to eliminate settling of the colors. Once shaken, take and run the marker over the damaged area. It will likely take more than one coat to cover the damage. Wipe any excess off using a clean, dry, lint-free cloth. Recap the pen to prevent it from drying out.
Warranty information has at least one characteristic in common with a legal document or owner's manual … they are not terribly exciting reading. However, like most small print, you should take a moment to read and understand the warranty. As you consider the various cabinetry options, remember to consider these 4 questions.
What is covered?
Almost all warranties cover defects in the materials used in a cabinet's construction. For example, if the hinge on a cabinet door breaks, a replacement hinge will be provided. Likewise, any defects due to workmanship will be covered. If the cabinets arrive and a piece of molding has a scratch in the finish, a new piece of molding will be supplied.
2. What is not covered?
There are three key items that are typically not covered by warranty … misuse, natural aging/darkening of the wood, and labor to replace defective materials. As you would expect, the warranty excludes damage from misuse, abuse, negligence and improper installation. So, if your son uses the drawer as a ladder to reach the cookie jar on the counter, any damage will not be covered.
Over time, wood and finishes will be affected by a variety of environmental factors … lighting, smoke, humidity, and household cleaners to name a few. Painted cabinets will eventually have small, visible cracking around joints due to the expansion/contraction of the wood from variation in household humidity. These are all considered part of the natural aging process of wood. Consequently, they are not considered imperfections and are not covered by warranties.
When an item is considered defective, the warranty only covers providing a replacement part. The labor cost to install/replace the defective part is typically not covered.
3. What is the length of the warranty?
Warranty length is generally related to the price of the cabinets. The more expensive the cabinets, the longer the warranty. In general, warranties run from 5 to 25 years. As you move to more expensive semi-custom or custom cabinets, the warranties are for the lifetime of the cabinets.
4. Is the warranty transferable?
Almost without exception, the warranty is only good for the original purchaser … it cannot be transferred when your home is sold.
If you believe there is an issue covered by warranty, we encourage contacting the company which supplied the cabinetry. They will be in the best position to help resolve your issue as quickly and conveniently as possible.
Kitchen Renovation – What is a rule of thumb for budgeting?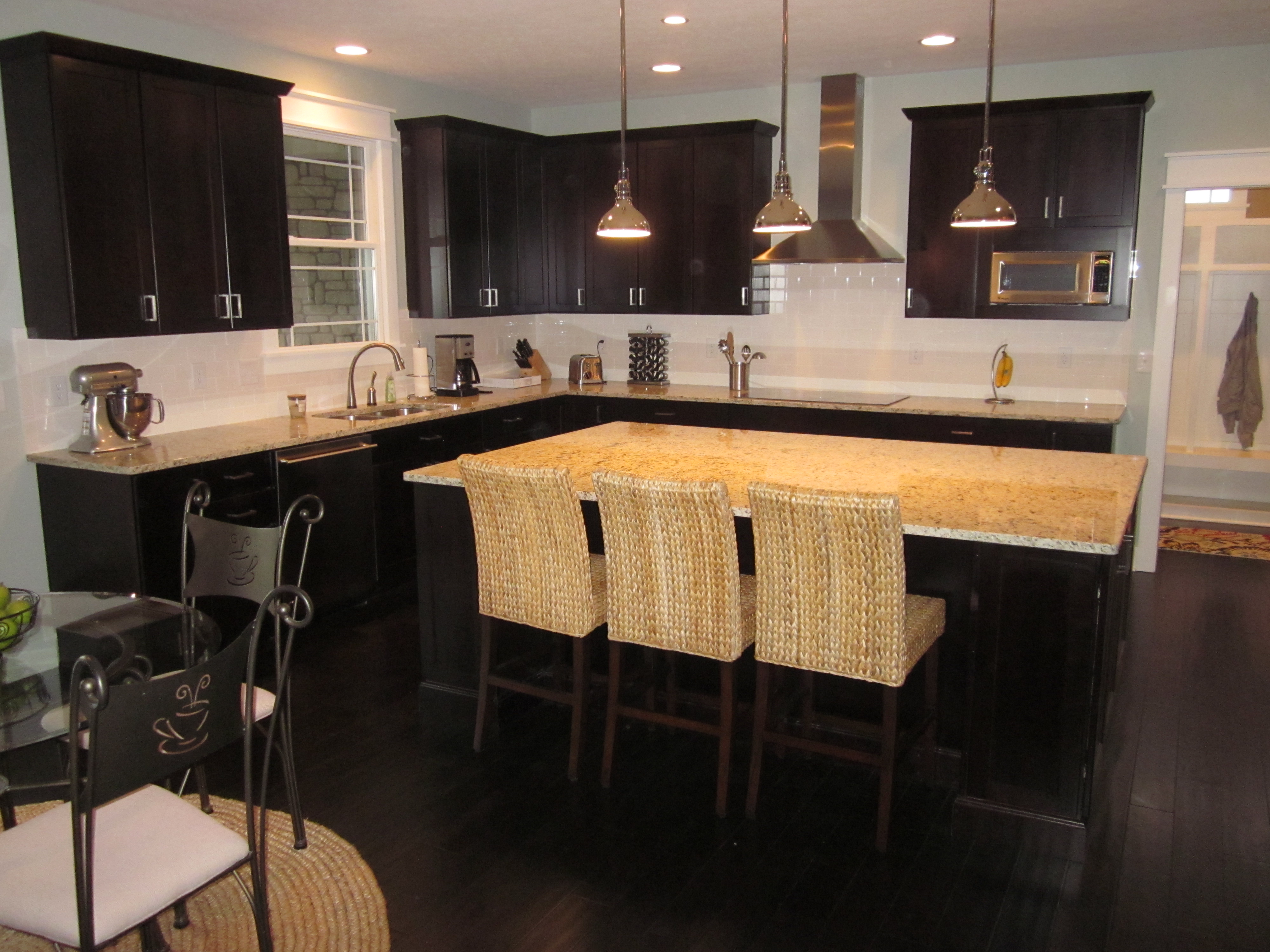 You are getting the itch to renovate your kitchen. When you go to the internet, Houzz, Pinterest, and other home décor sites are your first stops. While dreaming, a couple of questions continue to nag you … "How much will a kitchen renovation cost and can I afford it?".
While a variety of factors impact a project's cost, you can use a rule of thumb to get a general idea of the required budget. Remodeling experts estimate a kitchen renovation costs around 15% of your home's value. So, if your home is valued at $200,000, the budget for an updated kitchen is approximately $30,000. For a $350,000 home, you would spend $52,500. The biggest cost element of a kitchen remodel will be for cabinetry. One industry source breaks down the elements in a renovation budget as follows:
Cabinets 40%

Countertops 10%

Appliances 9%

Lighting/Electrical 8%

Wall Covering 4%

Floor Covering 7%

Labor/Installation 20%

Miscellaneous 2%
Total 100%
As mentioned above, a number of items influence the final budget. For example, removing existing walls increases the labor cost. If you are a serious cook, appliances will likely cost more than a typical kitchen renovation.
Your budget should consider how long you plan to remain in the home. If you are only planning to remain in the home 1 – 5 years, there is less time to recover your investment in appreciation. This mentality reduces the overall amount you should plan on spending.
If you expect to stay in your home for a long period of time, you want to ensure the renovation works best for your family. Typically, this results in a larger budget as you enjoy the benefits of the renovation for a longer time.
You should also plan on encountering surprises impacting the budget. Often these are not significant. However, we have encountered projects with significant electrical or plumbing issues requiring resolution. Fixing these problems can have a big effect on the budget.
Finally, the specific cabinet, countertop, flooring, appliance, and fixture selections you choose drives the final budget. Using experts will help you avoid making costly mistakes and identify opportunities where spending less may equal more. Typically, any fees paid to experts is more than offset by the added value they bring to the project.
With your nagging questions answered, go ahead and return to planning your new kitchen with better knowledge of what you can afford.
Testimonials
"Sonja and I want to thank you for the great experience that you and your company provided to us throughout the design, manufacture, and installation of our library cabinetry you made for our condo. Our friends and family rave about its quality and appearance. You are all craftsmen and it was a real pleasure watching the project come together during the whole process."
Al & Sonja

"Thanks again for successfully completing our project today. Special kudos to Mike and the other craftsmen at the shop for a job well done. We could not be more pleased with the results. Mike's attention to small, finer details was very much appreciated. He was patient, pleasant and understanding. It's all about the "fit & finish" with us and Spiceland Wood Products did not disappoint. We WILL be doing more business together soon – we look forward to it. Given the opportunity, we will highly recommend SWP to everyone. It was a true pleasure working together."
Wayne & Tonia
CABINETS, COUNTERTOPS & CUSTOM WOOD PRODUCTS