If you decide to replace countertops in your home, do you know what material to choose or where to begin? There is a large variety of countertop options with different qualities and price levels. In the next few blogs, we will share pros, cons and maintenance requirements for mainstream countertop choices.
Soapstone: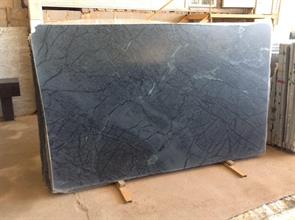 Soapstone is a gorgeous natural stone that varies in color from black to greenish gray. The stone may also have distinct light-colored veining and costs $80 - $110 per square foot, installed.
Pros: Impervious to chemicals, bacteria and stains. For this reason, soapstone is often used for countertops in science labs. It is unaffected by heat and develops a soft, worn patina.
Cons: This is a naturally soft stone. It can easily be scratched or even chipped. This inevitable wear is often seen as part of the beauty of soapstone.
Maintenance: Soapstone can be cleaned with any number of cleaners. An occasional application of mineral oil will deepen color and even out surface scratches. The entire top can be professionally sanded to buff out imperfections.
Quartz:
Quartz is often referred to as "man made granite." It is composed of 90–95% quartz and 5-10% pigments and resins. Quartz is available in a myriad of colors and patterns ranging from solid to uniform to a pattern with unique movement. Cost is $75-$105 per square foot, installed.
Pros: Non-porous, non-toxic, and non-allergenic. It resists bacteria, stains and scratches. Very durable and requires no sealing or waxing. More "green" than naturally mined stone.
Cons: One of the higher priced stone countertops.
Maintenance: Soap and water clean-up.
Granite:
Granite is a natural stone cut from quarries and transported by slabs to fabricators all over the world. The colors, veining, and pattern is unique to each slab. We recommend hand-picking slabs from a stone yard to ensure the desired look. Cost is $50-$100 per square foot, installed.
Pros: Granite is heat, scratch, stain, and water resistant. It is available in a wide range of colors and a number of finishes from polished to honed.
Cons: Granite must be sealed regularly. Depending on who you talk to, this sealing should be done annually or every few years. Fortunately, sealing granite is a quick, easy process that can be completed by the homeowner.
Maintenance: Clean granite tops with warm water or cleaner made specifically for granite. Re-seal granite annually/every few years.