Replacing kitchen or bathroom countertops is a big decision. Homeowners have a large variety of options with different qualities and price levels for each. This is the second installment with information on different options available to homeowners.
Marble is an elegant natural stone. Colors range from soft white and gray to creamy beige, creating a timeless countertop. Cost is $70-$100 per square foot, installed.
Pros: Marble adds instant luxury to a kitchen, and is recognized worldwide as a beautiful, expensive material.
Cons: For being such a delicate material, it is surprising how popular marble is as a countertop. It is a very soft stone, and is easily scratched or nicked. Acidic food can etch the surface and certain foods/beverages leave permanent stains on contact. The inevitable patina that develops from even light use is often seen as part of marble's charm.
Maintenance: The surface of a marble top should be re-sealed every year with marble sealer. For daily clean-up, use only water or marble-specific cleaner.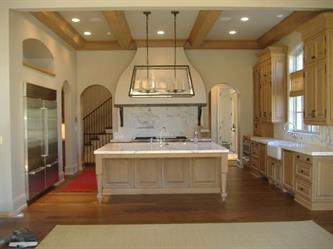 Solid Surface countertops are a man-made surface created by fusing together a mixture of acrylic or polyester resins, powdered fillers, and pigments. Cost is $50-$100 per square foot, installed.
Pros: Solid surface tops come in a myriad of colors – from lime green to beige, to multi-colored. After installation, solid surface tops will appear seamless. They are durable and non-porous, and because of the nature of the material, unusual shapes are possible.
Cons: Solid surface is sensitive to heat, and pot-holders should be used for hot items. The top is susceptible to scratches, but fortunately, scratches can be professionally buffed out.
Maintenance: Soap and water clean-up.
Stainless Steel countertops often come to mind in conjunction with modern or industrial designs, but their seamless functionality and durability is hard to resist for any kitchen style. $80-$90 per square foot, installed.
Pros: Stainless steel is available in several finishes: matte, brushed, satin, and even patterned. The material is very durable, non-porous and non-staining. It is heat resistant, easy to clean and can be molded to include seamless sinks and drain boards. Most stainless steel tops are made using 60% recycled material.
Cons: Some people complain that fingerprints and watermarks require constant wiping away. Stainless steel also develops scratches from average use.
Maintenance: Use soap and water for clean-up or try using baking soda or a diluted vinegar instead.