This is the third and final installment of options for your home remodeling project. Read on for more information on wood, ceramic and laminate countertops.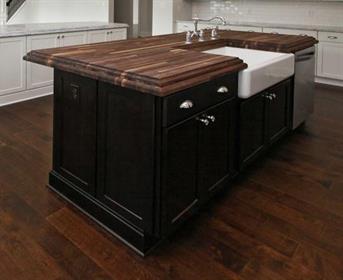 Wood tops
are both elegant and warm. There are many different wood species available, as well as various stains, thicknesses, edging, and texture options. This variety makes wood tops a beautiful and timeless option. $30-$85 per square foot for materials.
Pros: Contrary to belief, wood countertops are very durable. With a permanent finish, they are waterproof. Wood is also food-safe and is made from 100% renewable materials, making them a "green" option.
Cons: With constant use as a cutting board, a wood top may require re-sanding and re-finishing to maintain a smooth look.
Maintenance: The care required by a wood top varies depending on the finish used to seal the top. With a permanent varnish, a wood top requires no special care. A tung oil finish will need re-applied twice a year. A mineral oil finish needs re-applied 6-8 times per year. It is recommended that bleach not be used on an oil-finished top.
Ceramic/Stone Tile countertops are an affordable and frequently used countertop option. Especially, if you like the look, but not the cost of granite – buy granite tiles! $10-$70 per square foot for materials.
Pros: Tile countertops can be very durable: heat, scratch and stain resistant. There are a multitude of color and pattern choices available – with the option of even mixing and matching tiles to create a top as simple or complex as your taste desires. If tiles are damaged, as long as replacement tiles are available, swapping out the bad tile(s) is easily done.
Cons: The largest downside to tile countertops is dealing with the grout. Grout can stain, or crack, which eventually results in re-grouting your countertop. Another consideration: while tile is durable, it is also possible to chip the tile.
Maintenance: Soap and water clean-up is the standard everyday procedure for tile tops. To protect against grout problems, it is recommended that the grout be re-sealed frequently.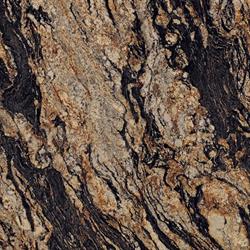 Laminate countertops
are one of the most affordable options available to homeowners. There are an endless number of color, pattern, and finish choices, as well as unique edge profiles. $20-$30 per square foot, materials only.
Pros: In recent years, laminate companies have worked to modernize colors and options available with laminate tops. Advancements have been made especially in the area of creating tops that mimic the look of natural stone slabs. Backsplashes can be integrated into the countertop and undermount sinks are an option as well.
Cons: Laminate tops cannot be used as a cutting board surface, as laminate is susceptible to scratches and cuts. Pot holders are a must as laminate is only heat resistant to 150 degrees. Once a laminate top is damaged, it is almost impossible to repair.
Maintenance: Daily clean-up is best done with soap and water. Bleach is not recommended.