Updating kitchen and bathroom cabinetry remains an excellent way to improve your home's value and appearance. Cabinetry is available in a wide assortment of styles, wood species, and finishes. Cabinets also come in a range of prices, providing options to fit the budget of every remodeling project. When planning a kitchen or bathroom renovation, cabinet options, construction and pricing needs to be considered to make the best investment for your home. To help, this post provides a summary explaining the characteristics of custom, semi-custom, and stock cabinetry.
Custom Cabinets give the greatest number of options for your project. They have an almost endless number of choices, allowing the bath or kitchen design to be limited only by your imagination. Custom cabinets provide unique products not typically available in semi-custom or stock cabinetry lines.
Current design trends make cabinets resemble furniture. The picture below shows a refrigerator designed to look like an furniture armoire. Custom cabinets can be designed and configured to "create" furniture, match existing designs and colors, or fit into unique spaces. Custom cabinets are typically constructed from plywood with solid wood face frames/doors/drawerheads, maple dovetail drawer construction and soft close hardware. The finishes can involve up to 25 steps to prepare, stain, and seal the wood for a lasting finish.
From a cost perspective, custom cabinets are the most expensive. However, the higher cost provides the most product and design options, an extremely high level of quality, and usually hand-rubbed finishes.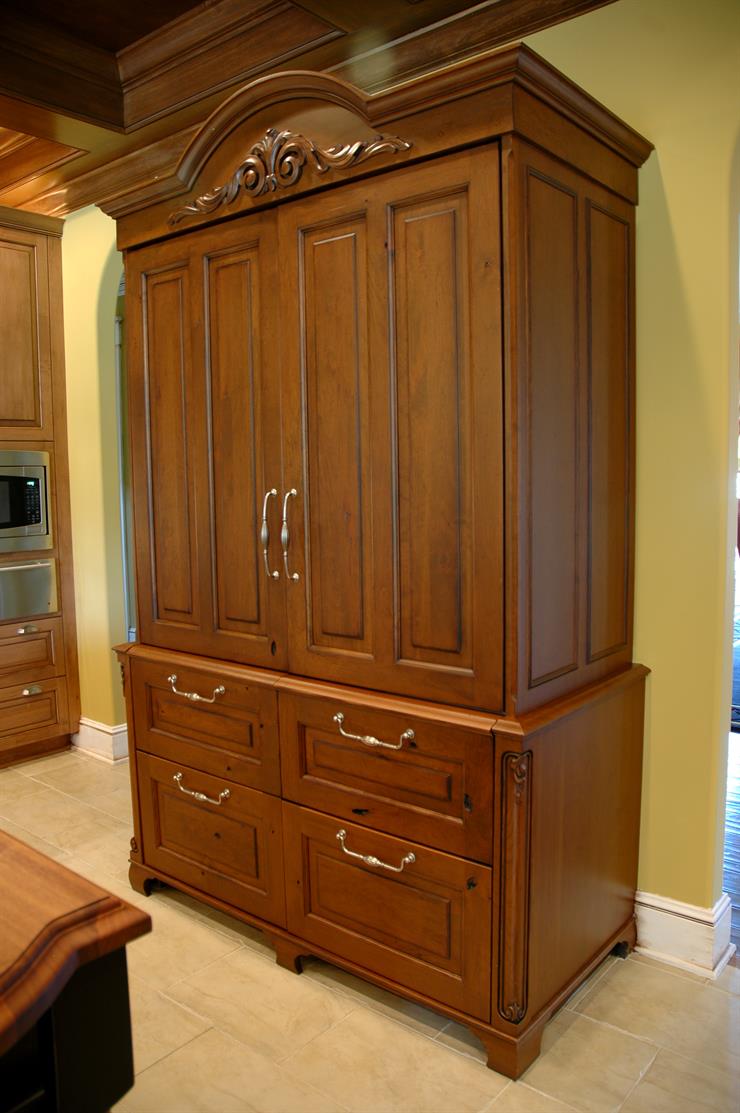 Semi-Custom Cabinets also come in a wide variety of styles and options. While not as adaptable as the cusom offerings, they still offer plenty of choices to meet the needs of home remodeling projects. Features standard on custom cabinets can be options, with additional cost, on semi-custom cabinetry.
Construction for semi-custom cabinet boxes may utilize furniture board or plywood, depending on the manufacturer and their options. Face frames, doors, and drawerheads are typically solid wood. Drawer boxes are usually made from solid maple and joined with dovetail joints. Delivery times for semi-custom products are shorter than custom, allowing for faster completion of home improvement projects.
Overall, semi-custom products provide a substantial number of options and choices, but at a lower cost than custom cabinets.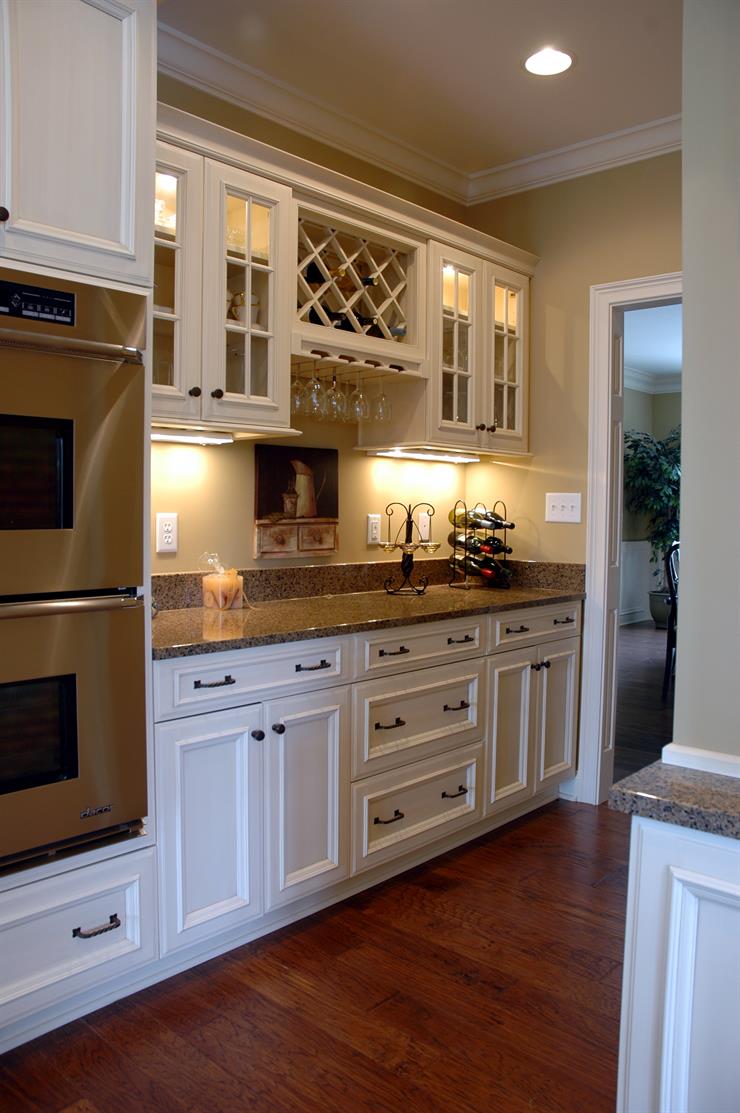 Stock Cabinets allow homeowners to add value without spending a significant amount of money. Stock lines have a variety of door styles, wood choices, and finishes. However, the selection is not as wide as custom or semi-custom lines. For example, the number of white paint options could range from 2 for stock cabinets to 8 for semi-custom lines to an almost limitless selection for custom. A more limited choice of cabinet configurations will reduce the amount of customization, or unique elements of a kitchen remodeling project. Similar to comments above, features that are standard on custom or semi-custom lines are often an upcharge on stock cabinets. Depending on the project, semi-custom cabinetry may be cheaper than stock cabinets if a number of options are chosen.
While construction of stock cabinets is similar, the materials might be slightly thinner (1/2" versus 3/4") or use a different material (furniture board versus plywood). Face frames and drawerheads are still primarily made from solid wood. Doors are usually solid wood, but could include veneer-covered plywood. Specifics will depend on the manufacturer. Solid maple drawer boxes with dovetail joints are usually an option with finishes applied in fewer steps on a production line.
Even though stock cabinets have more limited variety, they remain an excellent option for use in many renovation projects.
If you have cabinet questions or are considering a home remodeling project, Spiceland Wood Products would be happy to help you answer questions on cabinet options or show you the differences discussed above.