When it's time to choose the perfect cabinets for your kitchen, one of the decisions you will have to make is whether to choose painted or stained cabinets. Maybe that decision is one you have already made, and you know exactly which you will choose. Perhaps you are still debating which option suits you best. If so, this information will hopefully make your choice a little clearer.
First, it is important to understand that there is no right or wrong choice. Both painted and stained cabinets are excellent options and provide you with years of satisfaction. It really comes down to personal preference and what you are looking for in your kitchen.
Painted cabinets will have a smooth and uniform finish with no variations in their appearance. Because the paint adheres to the cabinet's surface, only the color of the paint will be noticeable. In contrast, stain is much thinner than paint. This allows it to be absorbed into the wood, showcasing the wood grain and other unique features of your cabinet's particular wood species.
Paint works well on cabinets made with wood or MDF (Medium Density Fiberboard). Once painted, it can actually be difficult to differentiate between the two materials. If you go with stain, keep in mind that it can only be used with natural wood cabinets.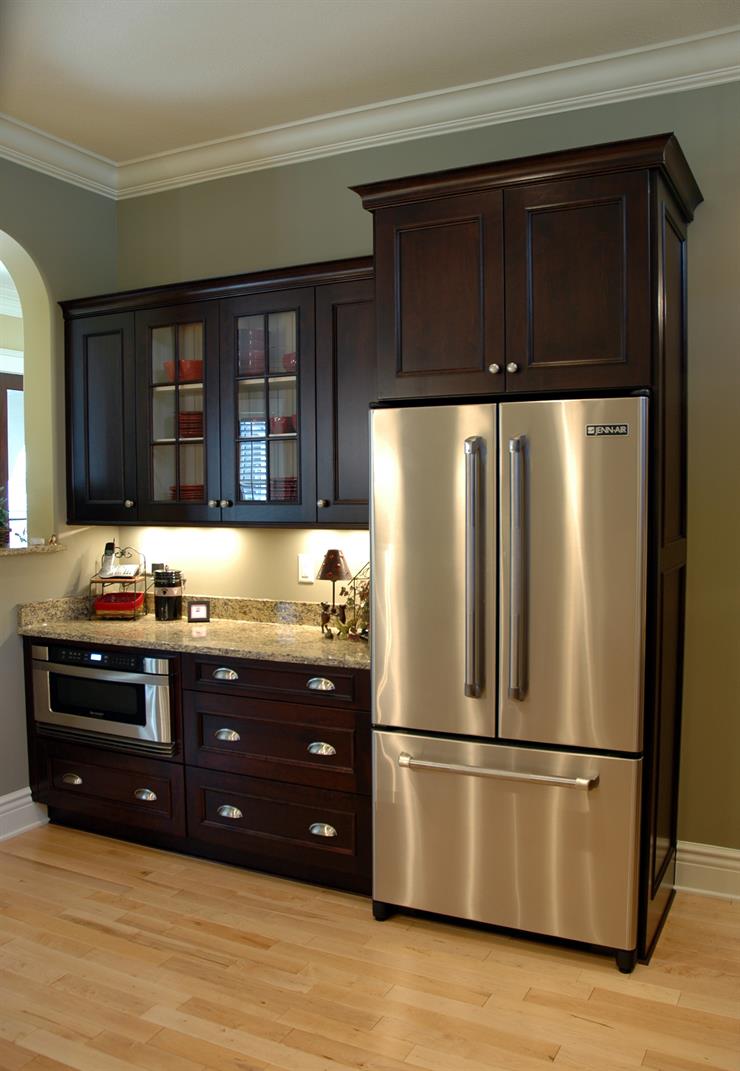 Even in the most careful of environments, inevitable nicks and scratches occur. Touching up a stained cabinet is relatively easy thanks to the wide variety of touch-up markers available. Painted cabinets can be a little more difficult to touch-up due to the fact that the paint is generally sprayed on, not brushed. This is what gives painted cabinets their smooth appearance, but it is hard to recreate that look when trying to repair nicks or scratches with a paint brush.
The last factor to consider, and perhaps for some the most important, is the cost. Painted cabinets are typically 15% more expensive than stained cabinets, so there is an upcharge for the clean, sleek look of paint.
Making the choice between painted and stained cabinets does not have to be difficult if you know your preferences and the look you want to create. If you make your decision based on this information and your personal style, you will achieve the space you desire.