With most home remodeling projects, there are a myriad of decisions to make and a virtually endless number of choices. One of these decisions is whether to use a professional kitchen/bath designer, or not.
Spiceland Wood Products believes professional designers add significant value to a kitchen or bath renovation. I am sure that is not surprising. Let me provide a few tangible reasons to support my bias for using a professional designer. Hopefully, these provide better understanding of the benefits a professional designer brings to home remodeling projects.
Redesigning your kitchen possesses a number of special challenges. Choices made throughout the project are both expensive and semi-permanent. When complete, you want the kitchen to meet your unique needs, function properly, and look as envisioned. A professional designer is trained to understand your vision and translate the vision into a well-functioning space. The designer's expertise ensures the end result reflects your style, works effectively, and fits within the budget.
Designers utilize the latest technology to provide drawings and renderings to help you visualize the space before any work starts. This helps refine the design and is used in decision making for various project components and fixtures. An example of a kitchen rendering is below.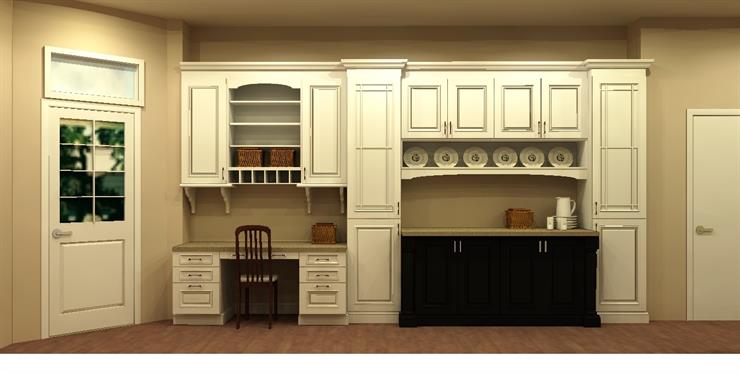 Kitchen and bath designers can reduce costs by using more efficient cabinet layouts, awareness of lower-cost options, and avoiding expensive corrections or repairs to a poor design.
A professional designer is knowledgeable in kitchen and bath planning guidelines. Following these guidelines ensure meeting local building codes and safety regulations and makes the space more functional for you. Two examples include designing sufficient countertop space next to cooking surfaces and knee space for island seating areas.
The kitchen or bath being renovated may have design challenges ... numerous doorways or angled walls. Professional designers are trained to develop various options for these complex spaces that achieve desired functionality and aesthetics.
Designers work with you to consider all the details of a project. This includes developing the necessary drawings, paying attention to lighting and electrical requirements, and choosing cabinet hardware and finishes to enhance the final design.
While the above items are not an exhaustive list, a professional designer provides valuable assistance in creating an attractive space to meet your needs, maximizing the project's budget, and solving the challenges that may be encountered throughout the project.