Over the last couple of years,the popularity of quartz countertops has increased signficantly. The majority of our clients are choosing quartz, instead of granite, solid surface, or laminate for their kitchen or bathroom projects. This shift is due in part to quartz manufacturers developing the ability to create random patterns and color options. It also helps that quartz does not require any maintenance. The major manufacturers of quartz tops are Cambria, Caesarstone, and Silestone.
Read on for additional information on quartz countertops.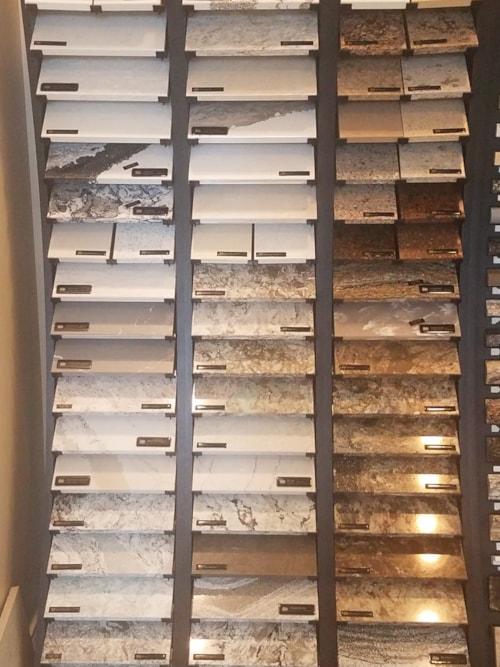 What is Quartz?
Quartz is a man-made, engineered material with characteristics very similar to a natural stone. It is sometimes referred to as man-made granite. Quartz countertops are made by grinding natural-quartz crystals into a dust or aggregate and then fusing with resin binders and color pigments under heat and pressure to form a solid slab. Pieces of glass or metallic flecks may also be added for more interest. The slab is then cut to the correct size in the same manner as granite, with a variety of available edge profiles.
Like granite, quartz tops are very heavy. Installation is not typically a DIY project and should be left to certified installers.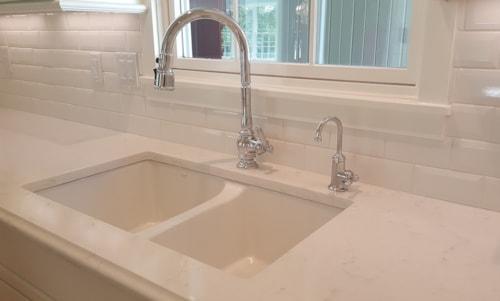 Pros / Cons of Quartz
Quartz has a number of benefits. As mentioned above, quartz is non-porous, making it maintenance-free. Many customers select quartz based solely on this characteristic. Granite, on the other hand, requires regular sealing. Quartz is also anti-microbial. Finally, a number of quartz colors come in "jumbo slabs." These slabs are larger than normal, allowing fewer or no seams in a counter or island top.
On the downside, quartz is typically more expensive than other countertop materials, including granite. Quartz cannot be used in outdoor settings as direct UV light can impact the colors.
If you are considering new countertops, please stop in our Spiceland, Indiana showroom and we will be happy to talk with you about all the countertop options, including quartz.