Stainless steel sinks continue to be used in most kitchen remodeling projects. While hard to tell exactly, one sink manufacturer estimates stainless steel accounts for approximately 70% of all sink purchases. It is easy to understand why ... stainless steel sinks are relatively inexpensive, durable, and available in a variety of configurations and sizes. While stainless steel remains the leader, we are seeing more clients opt for quartz sinks.
Like quartz countertops discussed in our previous blog, quartz sinks are made from a combination of natural quartz and acrylic resin. The typical ratio is 80% quartz and 20% resin, providing a very durable sink with the look and feel of natural stone.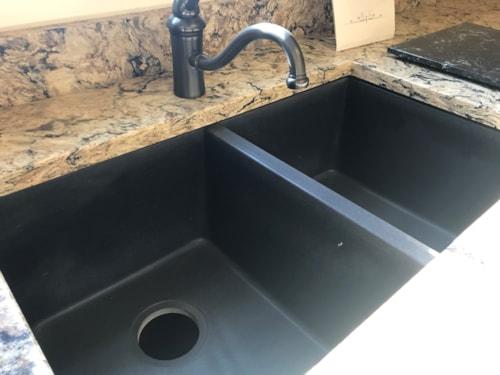 Quartz sinks are being purchased for a number of reasons.
As noted above, quartz sinks are very durable. They are resistant to heat, scratches, dents, and chips.
Quartz is a non-porous material making it hygienic, and resistant to bacteria and odors.
Quartz has inherent sound-proof characteristics, making it quieter than stainless steel sinks.
The availability of an assortment of colors makes it easy to find a color to complement your countertop.
With most quartz sinks costing between $200 to $600, they are an affordable option.
As you consider quartz sinks, there are a couple of additional characteristics to understand. Quartz sinks are hard. Dropping dishes, glasses, or fragile china on the sink can cause damage. These sinks are also prone to showing water spots. To avoid this, they need to be wiped dry after use.
Caring for a quartz sink is relatively easy. You will want to regularly clean it with a mild detergent and wipe dry after use to prevent spotting. You should not use abrasive cleaners or sponges to clean these sinks.
Give us a call at 765-987-8156 or stop in our Spiceland, Indiana showroom to let us help you with your kitchen renovation, including your sink selection.